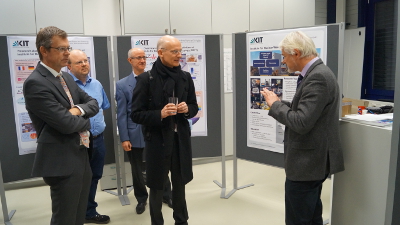 Am 24.11.2016 besuchten Herr Dr. Jean-Jacques Pierrat, seit 2015 Botschaftsrat für Wissenschaft und Technologie der französischen Botschaft in Deutschland, und Herr Dr. Paul Alibert, Attaché für Wissenschafts- und Hochschulkooperation für Bayern und Baden-Württemberg, das KIT zum zweiten Mal. Bei ihrem ersten Besuch im September 2015 hatten sie den französischen Botschafter S.E. Philippe Etienne ans KIT begleitet.
Nach der offiziellen Begrüßung durch Vize-Präsident Professor Thomas Hirth stellte Dr. Pierrat die Wissenschaftsabteilung der französischen Botschaft vor. Deren Aufgabe ist es, die Zusammenarbeit im Bereich Wissenschaft und Technologie zwischen Deutschland und Frankreich zu entwickeln und zu intensivieren. Professor Johannes Orphal und Professor Volker Schulze berichteten über die Aktivitäten des European Campus Eucor und des gemeinsamen Instituts de KIT mit der Partneruniversität ENSAM, des Institute for the Industry of the Future.
Nachmittags besuchte Herr Pierrat den Campus Nord. Professor Jörg Sauer zeigte die bioliq®- Pilotanlage, Frau Dr. Kathrin Valerius das KATRIN-Experiment und Dr. Volker Piotter das Spritzgießtechnikum. Professor Horst Geckeis und Dr. Jörg Rothe berichteten über die Forschungsaktivitäten des Instituts für Nukleare Entsorgung an den zwei Beamlines der Synchrotronstrahlungsquelle ANKA und über die Zusammenarbeit mit dem französischen CEA (Commissariat à l'énergie atomique et aux énergies alternatives). Anschließend erhielt Herr Pierrat von Dr. Robert Ruprecht und Dr. Michael Nasse einen Überblick über die Synchrotronstrahlungsquelle ANKA.
Es wurden mehrere Ansatzpunkte für die weitere Zusammenarbeit zwischen dem KIT und der französischen Botschaft besprochen, die jetzt schrittweise umgesetzt werden.